© Copyright How High Equestrian 2007

Below are a selection of some of the horses that started their life and/or career at Talisman. We are proud to know that Talisman horses are out competing both Internationally and in Australia. Our aim at Talisman is to continue to produce top quality horses.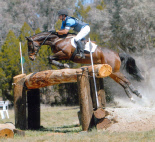 Henry (Highland Charm)
Henry was a horse Bec and James got off the track when he was a 3yo. He evented to 2** level in Australia. Bec trained and competed Henry until he went to Sam Lyle to be sold internationally, where Wayne Roycroft stated that he was of Olympic quality. Henry is now 3*** in the UK, and was 2nd at Blair Castle CCI*** in 2009 gaining him selection on the team for London Olympics, unfortunately due to an ownership dispute Henry was not able to compete and has missed the chance of being selected for the Olympics. The dispute has now been resolved so we hope to see Henry back in the placings at some big events with Polly Jackson. Henry is also the brother of our Stallion 'Ringo'.
Tango (Highland Fling) - not pictured
Bec got Tango off the track and competed him in Australia. He then went to Sam Lyle for sale internationally, where he was sold to Japan as a showjumper. In Australia Tango competed to 2**.
Murphy (Highland Murphy)
Murph was one of our first ISH we bred. He was sold to Lys Baker in Victoria as a un-broken 2yo. Murph was always going to be a handsome man and Lys regulalry keeps in touch with us to let us know how he is going. Since Lys has had Murph he has been broken-in and she has started competing on him in dressage, showjumping and eventing and is regularly placing. He turns heads where ever he and Lys go. We look forward to seeing both Lys and Murph go up through the levels.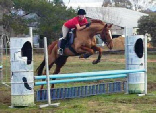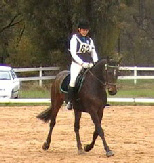 General
James and Bec got General off the track and started his basic flat work and jumping education. He was than sold to young rider Soraya in Canberra, who keeps in touch with us on his progress. Soraya has been out competing on General and doing a great job, they make a great partnership. We wish them both continued success.

Walter
Walter was another lovely big horse off the track that we started, he had a great nature and had super movement and jumping ability.
Bridie (Highland Bridie)
Bridie was one of our first ISH's that we bred at Talisman. She always had the sweetest of natures and was sold to QLD as a weanling.
Wilson (Highland Wilson)
Wilson is another of our home bred youngsters. He was sold to Emma in Victoria as a weanling and regularly catches up with his half brother Murphy. Wilson is rising two and Emma is looking forward to when he is old enough to start. Emma is planning on eventing with Wilson and we wish them a lot of success together.

Grace (Highland Grace)
Grace was sold as a rising 3yo and then sold to Bonnie. Bonnie has been busy so her brother Brad has 'stolen' Grace and taken her eventing and she is a super careful jumper!! We are sure she is going to make a great little eventer and look forward to seeing either Brad or Bonnie out and about on Grace.
Jimmy
Jimmy was a young off the track horse that Phil took on when he arrived from England. Phil did a super job with starting his education on the flat and over jumps. Jimmy was than sold to Jamie a young rider in Canberra. We have since seen Jamie and Jimmy at jump clubs and they are forming a lovely relationship.

Bell
ISH mare sold to Bec Sherriff as a 3yo. Bec does abit of everything with Bell and is having a lot of fun with her. Bell has a great home and Bec also now has a Jimmy foal!

Sexy (now Iris) and Miller
Iris and Miller were sold to good friends Lesa-Belle and Lucy from Sydney. Lesa-Belle and her family own a property near Braidwood so regulary come and ride when they are down. Miller and Iris still live at Talisman and we school them in between Lucy and Lessa-belle riding and coming for lessons. Iris went Pre-Novice eventing with James before being sold and Miller was bred and broken-in by us and since we have done Millers first few competitions on him with a 1st and 2nd place!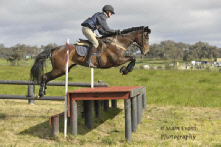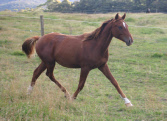 Flynn
Flynn has been sold to a good friend and student of ours Franny. Flynn is a half brother to both McGuire and Rielly so has all the potential in the world. We bred and broke-in Flynn and just as James was about to pull him out and start competing him the Judd's said 'what are you doing with Flynn, would you consider selling him. Well we did as Flynn and Franny are the perfect match and have already had some very successful outings together.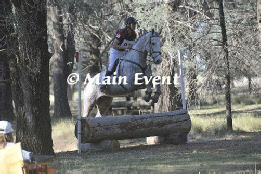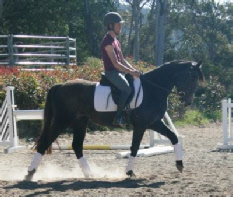 Charlotte
Charlotte our first Jimmy foal to breed and break-in, has been sold to Mateila and they are a super little team. Charlotte is an absolute cracker and can move, jump and is so easy - we wish we had a paddock full of them! Charlotte still lives with us at the moment so we can continue her education and Mateila regulary comes and rides her and has lessons. They are going to be a very competitive team in the future.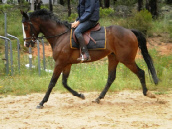 Vinnie
Vinnie is a very cute, sweet young T/B we got off the track and schooled. Georgie one of our students, now owns Vinnie but he also lives at home to continue his education and start his competition career. Georgie regularly comes and stays to ride and have lessons on Vinnie and we look forward to getting them both out competing this year. We think Vinnie and Georgie make a super team.

Ryan
Ryan is another lovely young horse that we bred and broke-in and sold to a lovely lady in Bungendore where he has a great home. We wish all the best for Ryan for the future and are sure that he is going to be a super little horse. Last reports Ryan is going great and is very loved.
If you have an update let us know or send us new pictures!!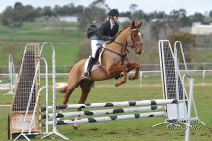 Peggy
Peggy was one of our favourite mares we first bred. She was so sweet and quiet and just lovely in everyway. Emily from Denmark competed Peggy once she was broken-in and loved her. She was then sold to a lovely lady in Bungendore called Lynne who has since done some dressage with her and given her a good home. Peggy is out of Karaoke one of our old mares that is the dam of Miller and our recent mare we have just broken-in Disco who is very flash! l
Jimbob
Jimbob (now known as Larka) was sold to Jane Murray in Sydney. Jane and Larka have been forming a great team and have now done a few preliminary events together. We are sure that we will see Jane and Larka competing at a high level in the years to come and we wish them both all the best!